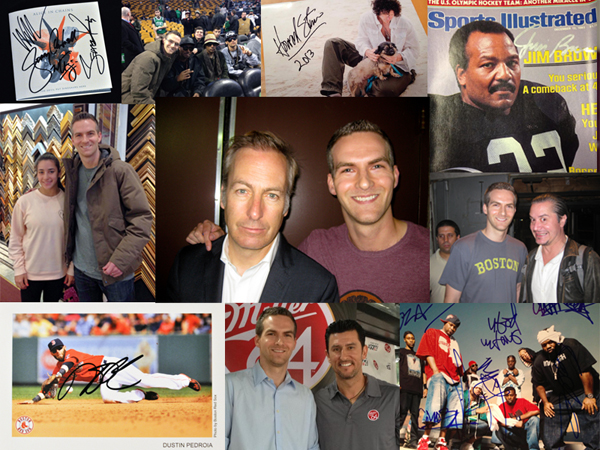 As the year ends I look forward to the holiday season not only for the opportunity to spend quality time with friends and family, but also for the chance to carve out some time to reflect on my life and sketch out a plan for the year ahead. Each of the past two years I've shared with you my autograph-related resolutions but today I want to take you deeper into what's going on at Autograph University and in my head and heart. Inspired by Chris Guillebeau's annual review model, I want to lay out what did and didn't work for me in 2013. Then, I'll give you a sneak peek at what we're planning for the New Year. I'm as excited as ever.
What Went Well in 2013
At the end of 2012 I asked readers how we could improve our content and I received a lot of feedback that you were interested in hearing from other collectors. I heard you loud and clear. Building community and collaboration were key themes for me coming in 2013, and two projects stand out as successes: the Autograph University Yearbook and Master Class.
Together we produced the second annual Autograph University Yearbook. This edition was again offered as a free eBook to newsletter subscribers and includes a fantastic collection of stories from 15 graphers.
We also launched the Autograph University Master Class and produced six episodes featuring video interviews with experienced collectors across the United States. Overall I think the format worked really well and I learned a lot from our guests. It was also great putting faces to names as we so often interact with other collectors only through their online handle.
Our inaugural Autograph University Class of 2013 recognized six athletes who have gone above and beyond to accommodate autograph collectors over the course of their careers. Our choices were influenced directly by your nominations. And the letter we received from the late Virgil Trucks' daughter really validated that we should continue to do this each year.
My first full year of fatherhood was my biggest success and greatest source of happiness. While I'm still wildly inexperienced as a parent, being Nathan's dad is what I feel most confident doing and provides me with a sense of fulfillment that I struggle to find in some other parts of my life.
We sold our tiny townhouse and moved into a home that was much more conducive to raising a family (reducing the number of staircases from four to one significantly increased the chances our toddler would learn to walk and live to see his second birthday).
I've written before about my promise to never choose graphing over spending time with my son so my opportunities have been few and far between since his birth. That said, I was still able to pick up some choice pieces this year during lunch breaks and after he goes to sleep:
What Did Not Go Well in 2013
It was a goal of mine to post more consistently throughout the year and not get sidetracked with life's distractions. And while I published 28 articles, it felt like a lot less. The Master Class started out strong with six episodes but I didn't produce any after May 7 (incidentally, the business I worked for (i.e., day job) was acquired June 1 and my family moved a week later—these are excuses but highlight the transitions I was experiencing). I also wasn't as engaged as I had planned with my newsletter subscribers and Facebook group members—two groups of collectors who deserve my attention.
Perhaps my worst offense in 2013—and something I am frankly embarrassed about—was not being as responsive as I should have been to those of you who emailed me. In multiple cases I didn't reply to a message for several days (or longer) and I promise this will change in the New Year. I love receiving your emails/tweets/Facebook messages and I appreciate everyone who takes the time to write.

I had planned to post many more videos on YouTube but my activity level on the channel was low and beyond the Master Class episodes I didn't offer a lot of value to my subscribers. There were many opportunities to create videos inspired by my posts—not to mention original content for YouTube—but I didn't take advantage of it last year.
I experienced a lot of stress obsessing about how to optimize my life. I'm always thinking about ways to improve my health and relationships, feel more fulfilled in my career, and find time to pursue my passions. Spending time on personal development is worthwhile but one of my weaknesses is not being able to step back and appreciate how fortunate I am to already have so many positives in each of these areas.
Most Popular Posts in 2013
Why 2014 Will Be the Biggest Year Ever at Autograph University
One needs only to look at "What Did Not Go Well in 2013" to see where I'm motivated to improve this year. But creating content more consistently and increasing responsiveness is just the beginning. Helping you improve your autograph collection is my mission and what I will remain focused on in 2014. Here's a sneak peak at what I'm planning:
2014 Autograph University Yearbook – I hope you'll submit a story for our third edition. Email me.
Master Class and expert interviews – I love talking to collectors who share a passion for the hobby and bring great tips we can all learn from. I'd also like to dig deeper in topics like the psychology of autograph collecting and our culture of celebrity worship. Is there a topic you'd like us to explore? Whom should I interview? Leave a comment and let me know.
Class of 2014 – We'll honor a new class of fan-focused athletes and celebrities.
Autograph giveaways – I have autographs from Bobby Orr, John Stockton, Rickie Fowler and Kareem Abdul-Jabbar (and many more!) lined up for you guys.
More opportunities for us to connect – Should we jump on a Spreecast or Twitter for a live Q&A? I'd love to connect with more of you this year – let me know how you think we should best do it.
Thank You
2013 was a fantastic year and I'm very optimistic that the next twelve months will surpass it. Thank you so much for reading Autograph University and being part of our community. I'm just an email, tweet or Facebook message away – how can I help you?