June 1, 2013
Boston, Massachusetts
Loitering outside the Paradise Rock Club I replayed the night's performance in my mind. It was my first Tomahawk show but not the first time I was amazed by Mike Patton. Six years earlier at this very same venue I had seen him with Peeping Tom, another of many musical projects he's driven since his days in Faith No More. In addition to being tonight's headliner he was also my target. And luck was on my side.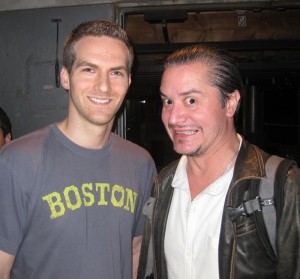 You see, the day before the Tomahawk show I pulled into a gas station, opened the car door and a bird shit on my face. Several of my friends assured me it was good luck. I hoped that good fortune (which didn't feel very much like it at the time) would manifest itself the following evening in the form of an autograph and a picture with the rock legend.
Outside the club I said so long to my cousins Adam and Jeffrey and watched them disappear down Commonwealth Avenue through the thinning crowd. The night air held a surprising chill after a 90-degree day in the city. Groups of friends made small talk before breaking apart as the smokers stamped out their sticks on the ground. Moments later, security swept people off the sidewalk as I tried to be invisible by the conspicuously parked black cargo van out front. I stared at my phone, keeping my head down like a student who didn't want to be called upon.
Then a young man with a curly black beard and a laminate hanging from his belt walked purposefully from the club's front door past me, hopped into the van's driver seat and fired up the engine. He took off down the street and banged a right at the red light. He was headed to the back door. My fast walk skipped into a sprint and I was quickly joined by other fans and a few graphers who had caught on to the vehicle's intentions. Behind the club roadies were already waiting with stacks of equipment cases. A second man marched behind the arriving vehicle and shouted commands in Italian as the driver navigated the vehicle toward the open doors. Over the next half hour a small group of fans watched as the boxes were assembled Tetris-style into the vehicle. When the last case was placed the driver whipped out his phone. "To remember what it looks like when I have to take it out again tomorrow," he said and snapped a photo.
With our adrenaline gushing and our focus on the club exit, a door creaked opened above us. John Stanier, the band's drummer loomed above us and lit up a cigarette. He descended an iron with a smile, signed whatever we had and posed for pictures. Soon after, guitarist Duane Denison followed the same route down to street level. He was quiet but friendly and I added a second signature to the band's self-titled CD. I noticed Denison was clearly skeptical of the graphers there with white sheets and drumheads—at one point he refused to inscribe "Tomahawk" and stated he had signed enough for one collector after several items.
After Stanier and Dennison boarded the van the wait resumed and I grew anxious as the clock rolled past 1 a.m. Graph or not I knew my son would be waking up in less than five hours. Was I feeling lucky?

Then fans made a move toward the door and I surged forward only to see Tomahawk's bassist Trevor Dunn. I sank back on my heels, but there right behind him through the arms reaching out with cameras and pens—Patton.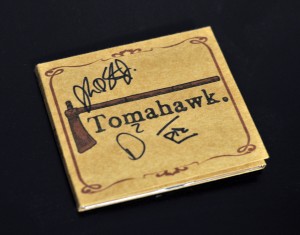 I weaved my way toward him, moving fast as I anticipated only a few seconds of opportunity before the final two band members were ushered into the van that would speed down this alley and disappear like the Delorean in Back to the Future leaving me shivering with a Sharpie in my hand and a rude 5:30 a.m. wake up call…
But Patton was in no rush. He greeted each of us with a smile and words of gratitude in response to the praise we showered upon him. I thrust out my Tomahawk CD which he signed with a chicken scratch before being pulled away into a photo request. Worried the picture with would elude me I felt the first panic pangs swell inside. But a few moments later the snapshot was mine. It was my lucky day. He went on to satisfy every request patiently and completely—so much so that I returned to ask a favor. I knew the experience couldn't get much better and I would be putting it all at risk. As a collector who typically requests only one item and a picture (if the opportunity presents itself), it's wildly out of character for me to put a celebrity in an awkward spot with a special request. But goddamn it, that bird shit on my face and I was going to press my luck!
I explained to Patton as concisely as possible that my cousin Adam turned me on to his music years ago and that he and his brother Jeffrey had to leave immediately after the show to catch a train. Would Mike give them a quick shout out on video?
Ok, he said. And I pressed record.
"Hi Adam and Jeffrey, you fucking blew it. Where the hell are you? Hope you're good. Mwah." He blew a kiss and exited with a wave.
Mille grazie, I said.
"Di niente," he responded.
I shook his hand and he hopped in the black van which shifted gear, sped down the alley and became one with the night.