Autograph Adventures will be a recurring series of posts highlighting my graphing successes (and failures) since I first started collecting nearly 20 years ago. I hope you are entertained and learn from my experiences.
September 14, 2010
Boston, Massachusetts
When Matt Damon emerged from the shadow of Fenway Park, all hell broke loose.
A half hour before, he had quietly escorted his pregnant wife into the gated players' parking entrance. Only the back of a well-worn Red Sox cap was visible to the mob clamoring to see the next celebrity arrival. "Was that Matt Damon?"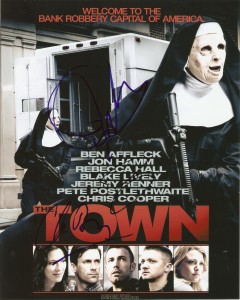 He answered any question about his presence at the Boston premiere of The Town, throwing himself into the screaming crowd, signing every scrap of paper pushed in his direction while posing for pictures with anyone who asked. I had secured a sweet spot by the SUV drop-off where I graphed Jeremy Renner and Ben Affleck earlier in the evening. But Damon started off to my left and was moving away from me. I had to make a move. Hurrying down the line, anticipating where he would be next, I found an opening and craned my arm over the shorter front rows of college girls hoping to get my photo in his path. Graphing Affleck and Damon in the same night? Wicked awesome.
Before I could register what happened, my photo—an 8×10 of the film's promotional poster already signed by Affleck, Renner and author Chuck Hogan—was snatched by security. A little man in an ill-fitting suit waved my item over his head. "You're not going to crush people, you stay back there!" He pointed to the corner of Yawkey Way and Van Ness Street, far away from the action, and told me I would get it back later.
I couldn't believe I had been singled out. Was I reaching over people shorter than me? Yes. Could I have made body contact with someone next to me? The place was a mosh pit. Was I crushing people trying to get an autograph? Absolutely not.
Here's a video of The Snatch, courtesy of @joepetemoody (Thanks man!):
Embarrassed and seething, I wandered over to the designated drop-off location and watched Damon sign up a storm. I had nearly given up when the walkie talkie-wielding warden stomped over and got in my face.
"You're crushing little kids and it's disrespectful!" [Ed. note: There were no children at the event.]
"Sir, can I please have my picture back?"
"See? You're still being disrespectful!"
"Sir, there's a big crowd here and we're all just trying to have a good time. I'm not trying to disrespect anyone. Can I please have my picture back?"
"I know that you are selling these and it's not right!"
"Sir, I don't sell any autographs. That's a ridiculous statement. Can I please have my picture back?"
He turned on his heel and scurried away, still holding my item in his hand. I watched in horror as he ran to the barricade and gave my picture to a fan. She squealed with joy. This was going to be an awkward conversation.
I scanned the crowd for the girl, finally finding her near where the theft had taken place. "I'm sorry to tell you this but that picture was stolen from me by security. May I please have it back?"
The girl didn't look at me or say a word, but her friend more than filled the silence. "No, you lost it! You were pushing everyone. It's ours now!"
A girl next to me spoke up, "I actually saw the whole thing and the guy took it right out of his hand. He wasn't the one pushing you."
Why thank you, kind stranger.
"As this young lady said, that picture was stolen from me. May I please have it back?"
The little loud friend spun her blonde ponytail back at me. "No! Go away!"
Incredible. "Does it really mean that much to your friend?" I asked. "I spent all night getting those autographs. Will it really mean something?"
"Yes, it means the world to us!"
The girl holding the picture whispered something to her friend and after a short debate, handed the picture back to me. I thanked her, apologized for the situation and wished them a good evening.
"I hope you're happy asshole!"
5 more observations from The Town movie premiere at Fenway Park:
If you take a look at the picture I had signed, it's very dark. Under normal circumstances, I would have used a silver Deco paint pen because a Sharpie wouldn't show up well (and it didn't). But because I knew there would be a huge crowd, up to six signers, and the tendency of Decos to malfunction and glob paint everywhere, I played it safe. My item doesn't look as good as it may have, but I avoided a huge mess.
Listed officially at five-foot-ten, Rebecca Hall towered over us in her stilettos—simply stunning.
Chuck Hogan—a family friend—wrote Prince of Thieves, the book upon which The Town is based. He is a supremely talented writer, a fantastic guy, and a hard-nosed competitor out on the Ultimate Frisbee field. He is working on a trilogy of vampire-themed novels with Guillermo del Toro called The Strain. The second book in the series, The Fall, was released on September 21, 2010.
People assume you're an autograph dealer if you're a guy in your twenties or thirties and you're holding a blue Sharpie. I don't fault them because I can guarantee you that graphs from the premiere went right up on eBay (or another site for sale). It's too bad the hobby has this cloud hovering overhead.
Celebrity signing summary:
Jeremy Renner – good signer but limited to one section of the crowd
Ben Affleck – took care of everyone, couldn't have been better
Rebecca Hall – started signing for the person next to me and moved down the line away from me; signed only a handful
Jon Hamm – snuck in while Affleck was signing
Matt Damon – surprisingly gregarious; somehow surpassed Affleck's generosity with fans
Chris Cooper – never saw him go in
Blake Lively – arrived last and with Penn Badgley; waved to the crowd but didn't pick up a pen