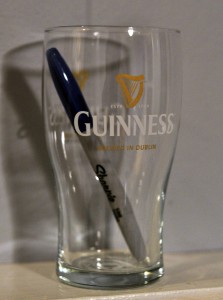 I'm less than two months away from getting my 1-year chip in AA—that's Autographaholics Anonymous—and I'm feeling the anniversary is in jeopardy. You see, the last graph I got was on May 12, 2012. The signer was former Patriots safety Patrick Chung which is sort of like an alcoholic's last drink being a shot of warm Bud Light. But my autograph abstinence wasn't a goal in itself. I wasn't seeking recovery. I didn't have a problem (ok, well maybe a teeny tiny bit of an addiction). It's just that since the birth of my son in June I've made the decision to be home to tuck him in every night. Stacked up against every team in town, every celeb filming in the Hub, he's always won out. I stopped reading the local gossip column, unfollowed several Twitter accounts which sourced tips on celebrity sightings, and soon the ache of knowing (or not knowing) whom I could be graphing wore off. No regrets.
It may sound odd for a guy who runs a website that revolves around graphing admit he has kept his Sharpie capped for nearly a year. If you're a parent you may not think it seems so silly. The truth is I do feel out of practice, but my passion for the hobby has never waned. In fact, prioritizing family first has allowed me to commit more time to helping you here at Autograph University. But last week I felt the heat of an old flame. She returned in the form of a film shooting in Boston this spring (currently referred to as the Untitled David O. Russell/Abscam Project), featuring a constellation of A-listers: Christian Bale, Jennifer Lawrence, Bradley Cooper, Amy Adams, Jeremy Renner and Louis C.K. There was no way this was going to fly under my radar.
Last week I placed an order with Adorama so I'd have photos on hand…just in case…I happened to…by chance…accidently…on my way to the bank…run into one of the actors. I felt myself starting to slip.
A few days ago I re-followed @olv on Twitter and glanced ever so briefly at The Inside Track in the Boston Herald. I felt myself starting to slide.
Will I make it a year without graphing? That anniversary really isn't important to me. What matters is that I never miss bedtime, even if it means losing out on JLaw or bailing on Bale.