The carpenter has his hammer. The plumber has his wrench. The grapher has his blue Sharpie.
But sometimes your photo has a dark background. Or your bat is black. Or you have a football. Then, what do you pull out of your toolbox?
If you want your dark item signed in silver—and most often you will—you have a number of choices. Marker? Paint pen? Which brand? These questions continue to confound collectors old and new. Based on trial and error (LOTS of error), I've developed this guide to help you choose the right silver pen or marker for your item every time.
GIVEAWAY: Leave a comment and let us know which silver(s) you use and be entered to win one of five packs of Infinity Metallic Permanent Markers. I'll pick the winners randomly on Friday, July 20 at 10pm ET.
Update: The winners have been notified. Thanks for participating!
THE PLAYERS
Write Dudes Infinity Metallic Permanent Marker (See an example.)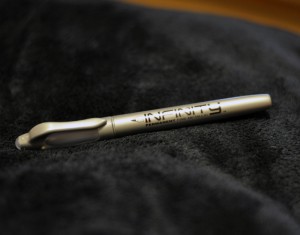 Formerly known as SRX ColorSharp, this silver marker offers the boldness of a paint pen without the prep work and maintenance. It's the most versatile silver in my bag as well as the most frequently used. Store a new marker upside down for 24 hours before uncapping and keep it inverted between uses for best results. I've had some issues with the marker drying out in cold weather.
DecoColor Liquid Silver Opaque Paint Marker (See an example.)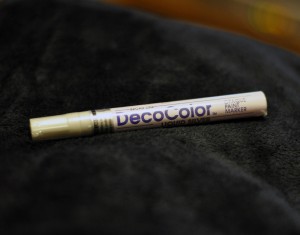 Ubiquitously referred to as a "Deco paint pen" (upon close inspection for this guide I was surprised to see "marker" on the label), its preference among collectors for premium hard surfaced items is similarly universal. Using this pen can result in some beautiful autographs. Conversely, a dry or leaky pen can ruin an item. You'll see in person graphers constantly testing their Decos on folders and scraps of paper for this very reason. As I alluded to in the Infinity description, these pens require some prep work to saturate the tip with paint—there's no unwrapping a Deco and putting it to work immediately. Like the Infinity it does not perform well when the temperature drops. I really like that the paint pen comes in a number of widths— Broad, Fine, Extra Fine—to give you more control over the appearance of your autograph. Unfortunately, Decos seem to be getting harder to find in retail stores.
Prismacolor Premier Metallic Silver (See an example.)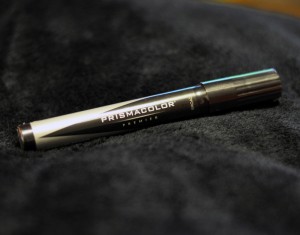 Deco loyalists may scoff at the suggestion, but I've experienced comparable results with this easier-to-find paint pen. Everything described above applies here except that Prismacolor doesn't offer an Extra Fine width (incidentally, it's probably the size you'd use least).
Sharpie Metallic Silver (See an example.)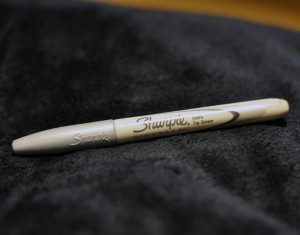 Inexplicably the silver just doesn't perform to the level of its blue brother and I rarely see it out in the field. That said, it dries quickly and doesn't bleed so it's a viable option for felt jersey numbers and low gloss paper items like CD booklets.
RECOMMENDATIONS
The following recommendations are based on my own experience and feedback from fellow collectors.
| | |
| --- | --- |
|  Item |  Marker of Choice |
|  Basketball |  DecoColor (Broad Point) |
|  Football |  DecoColor (Broad Point) |
|  Hockey puck |  DecoColor (Fine Point) |
|  Jersey number |  DecoColor (Fine Point) |
|  Photo/Flat |  Infinity |
|  Baseball bat |  Infinity |
|  Helmet (mini or full size) |  Infinity |
–
Which silver markers/paint pens are your favorites and on which items do you use them?