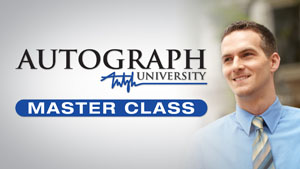 Welcome to the Autograph University Master Class! On our web show we interview experts and industry insiders to help you improve your autograph collection and meet celebrities. Know someone who should be a guest or have a suggestion for a topic? I'd love to hear from you.
Episode #8
Expert Tips for TTM (Through the Mail) Autograph Collecting with Tim Henderson
Episode #7
How Scott Smith Collected 20,000 Autographs and Became the SI King

Episode #6
How to Build an Amazing Autograph Collection On a College Student's Budget with Garrett Berthiaume
Episode #5
Autograph Signing Secrets Revealed with Randy Stone of 3 Monkey Sports
Episode #4
Behind the Scenes at The Autograph Card with Brian Flam
Episode #3
Spring Training Autograph Tips with Mark Cooper
Episode #2
Why You Need to Participate in Autograph Communities with Andrew George
Episode #1
Autograph Lessons Learned from Graphing LA and NYC with Keith R.