In our inaugural Class of 2013 we have recognized six athletes who have gone above and beyond to accommodate autograph collectors over the course of their careers. Each of these friends of our hobby will receive an honorary degree from Autograph University as a token of our gratitude. Thank you to all the readers who submitted a nomination. We selected a very strong first class and I look forward to celebrating the very best signers with you each year.
CLASS OF 2013
Bobby Doerr ('13)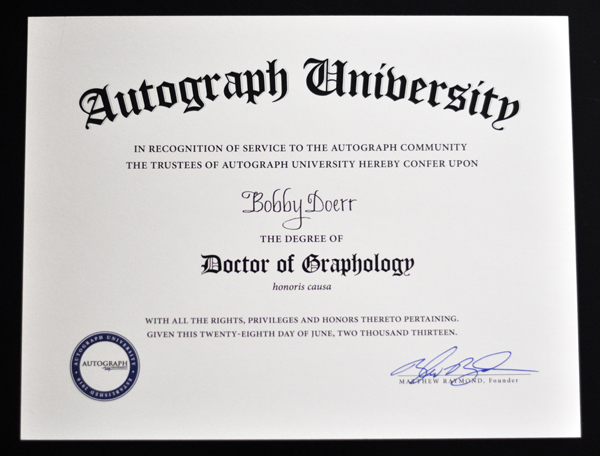 Has anyone signed more autographs in their lifetime than Bobby Doerr? At 95 years old, the Hall of Fame second baseman sports a 96% success rate through the mail (TTM) according to SportsCollectors.net! Not only are you almost certain to get your item back in less than two weeks (I received my baseball back in 9 days), but Doerr doesn't charge for requests. He may have been voted into Cooperstown by the Veterans Committee but he's a first ballot Hall of Famer in our book.
Have you received an autograph from Bobby Doerr? Leave a comment and share your story with us.