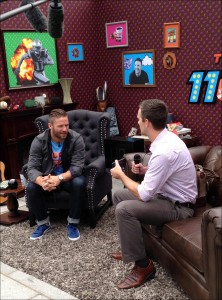 As part of a Dunkin Donuts promotion with Julian Edelman I recently had the opportunity to sit down with the New England Patriots wide receiver and ask him anything.
The catch? I had only 11 seconds.
Naturally, I wanted to talk autographs. In this case, I asked him to tell me about the first time someone asked for his autograph and how it made him feel.
Watch the video below to see his response (and don't forget to leave a comment for a chance in our giveaway).
Win this Julian Edelman autographed mini helmet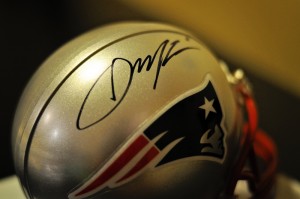 UPDATE: The winner has been contacted. Thanks to everyone who left a comment – awesome questions. Now let's try to get a real Autograph U interview with Edelman so he can answer them!
What question would you have asked Edelman? Leave a comment with your answer for a chance to win this mini helmet Julian signed for me as he was leaving the set of the video shoot! I will randomly choose a winner on Wednesday, October 1 at 10 p.m. ET. One comment per person and please use a valid email address so I can contact you if you win.
Thanks for participating and good luck!