On Christmas Day 2010 I sat with my grandfather at his kitchen table. The house had settled—the rest of the family had broken into smaller groups after dinner to catch up on news and recall memories. My grandfather left the room for a moment, returning with a gift bag which he dropped in front of me. He placed his hand on my shoulder. "I love you, pal," he said and again walked out of the kitchen.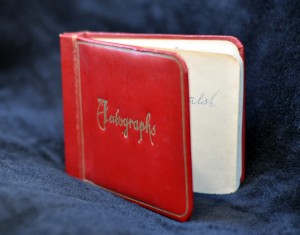 I pulled out a red vinyl-wrapped scrapbook. On its cover Autographs was once etched in gold, now only a hint of yellow remained after decades of age. I opened the book to find a date scrawled in blue ballpoint on the inside cover—"Jan 27/52". Beneath it my grandfather noted that it had been passed down to him from his mother. But the origin of the book went back a generation further to her mother.
My great-great-grandmother was an autograph collector.
The first autograph in the book was hers: Marian W. Walsh. The pages that followed contained an eclectic mix of 46 cut signatures, most from politics, music, and education. Each paper strip was affixed hastily with stamps or tape. There was a U.S. President, a First Lady and an iconic inventor. I suspect most may be secretarials or even facsimiles though I don't possess the eye of an authenticator. But what's certain is that this is a genuine relic of one of Marian Walsh's passions, one she shares with her great-great-grandson.
(If you're a Boston-based authenticator or know one, I'd love to have this book examined.)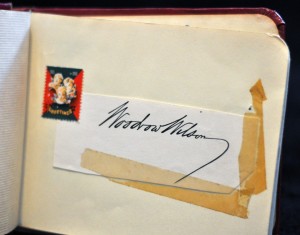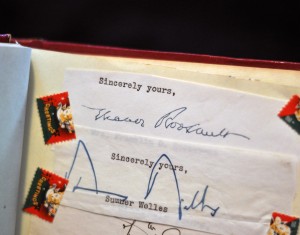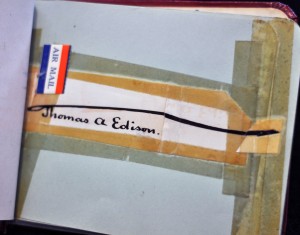 Do you share the hobby with a family member? Leave a comment and tell me about it.