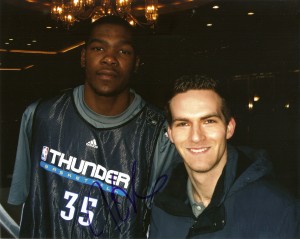 My basketball career began at the age of five when my parents signed me up for a local youth team. We were called the Cavaliers and my coach was a tomboy with a long braided ponytail that reached down to the small of her back. I was already a hoops fan, watching the Celtics championship teams on my father's knee during the first half of the 80s. But playing the game transformed an interest into a passion and I would play twelve months a year through high school. (Incidentally, I was so convinced I was going to play in the NBA that I retired from baseball after Little League—even after hitting .600 my final season—to focus singularly on hoops. Yeah, that didn't work out.) Though I didn't have the chops to compete on the D1 level at UMass, my love for basketball persisted. So when I was introduced to in-person collecting I couldn't wait to start graphing some of the stars I grew up watching.
Fortunately, of the four major sports basketball is the easiest to graph—they offer more opportunities and operate on an extremely predictable schedule. While hockey players are arguably better signers, there are many top-tier NBA players who are still generous with a pen, including Kevin Durant, Dirk Nowitzki and Carmelo Anthony.
I've been getting a ton of emails from readers about when to head to the hotel for NBA teams, so I created this guide to give you the insight you need to graph in a smart, efficient way on game day.
Arrival (Evening Before the Game)
Your first opportunity to graph is upon arrival to the hotel. Typically, a team will travel on an off-day and you can expect them to check-in between 5-7 p.m. the evening before a game to give players enough time to have dinner, relax and get a good night's rest. Because they come off the bus at once and the number of collectors is usually low, graphing multiple players can be a challenge. In this case having more collectors around actually helps because they can delay one player while you graph someone else. I've been in this situation many times and I wish I had another pair of arms to keep up with the flurry of activity.
In the event of a back-to-back game, you can estimate arrival time with the following equation:
Time game ends + 1.5 hours (postgame interviews/travel to airport) + duration of flight + travel time to hotel = Arrival time
It's inexact but will get you in the ballpark so you can decide whether you want to invest your time. Regardless, in this scenario it's going to be a late night.
Before Shootaround
On the morning of game day, visiting teams typically depart the hotel on a single bus between 9-9:30 a.m. for a 10 a.m. shootaround. Players stream out one at a time which is ideal for graphing and the early hour limits the number of collectors on site (ideal in this scenario since you'll have plenty of time to identify individual players). While some players are strictly "game time signers"—they sign once on the trip, before boarding the bus to the game—many of my biggest successes have come during the less hectic time before shootaround (e.g., Kobe autographed mini ball, Dwyane Wade autographed jersey, Kevin Durant autographed jersey).
After Shootaround
The duration of shootaround can vary but teams typically return to the hotel between 12-12:30 p.m. Like arrival, you encounter the challenge of dealing with an entire team stepping off the bus at once. You also have to contend with the fact that players just signed a couple hours prior so they are less likely to stop again. While there are signatures to be had, this is my least favorite time to graph.
Pregame Bus
The opportunity to get autographs as the team boards the pregame buses—most commonly referred to as "game time"—is a mixed bag. Players come out individually (which, as I mentioned before, is a huge advantage) but you'll encounter the biggest crowd of the day so competition can be fierce. The first of two game time buses leaves at 4:30 p.m. (for a 7:30 p.m. tip off) and typically carries the coaches and young players. The second "veteran" bus leaves at 5:30 p.m. Get to the hotel early (e.g., 3:45 p.m. to graph the first bus), grab a spot up front, and you'll be in great shape to let the ink flow.
At the Game
Every arena configuration and security protocol is different but there is one rule that applies across the board—arrive as soon as possible! At the Boston Garden, for example, premium seating is admitted two hours before the game (ticket holders in the loge and balcony are admitted only an hour before). The best graphing can be had by the tunnels where some players will stop and sign on their way to and from the court during warm-ups. I have the least amount of experience graphing at the arena so please leave a comment and share your tips.