With spring in bloom, you're planning a trip to the ballpark. You will arrive early for the best chance to graph the players upon their arrival or during warm-ups. You've sifted through your card collection, setting aside players for both teams. You've prepped your cards. Your Sharpie is flowing well.
There's just one problem.
During the last trip to the park, you missed a couple players because you couldn't flip through your stack in time to find their cards. Oh, and there was that incident last year when someone bumped you, spilling your cards to the ground. Picking the peanut shells off wasn't much fun.
So, how do you carry your cards securely while still allowing quick access at a moment's notice? It's easy with a couple inexpensive items from an art supply store.
What you'll need:
• Wire-bound artist pad (9"x12", 140 lb.)
• Acid-free self-adhesive photo corners
Step 1: Place a self-adhesive photo corner on each corner of your card.

Step 2: Affix the card to the artist pad. (You should be able to fit eight cards on each side of a page.)
Repeat these steps for all your cards. (NOTE: The photo corners do not damage your cards and they are simple to remove.)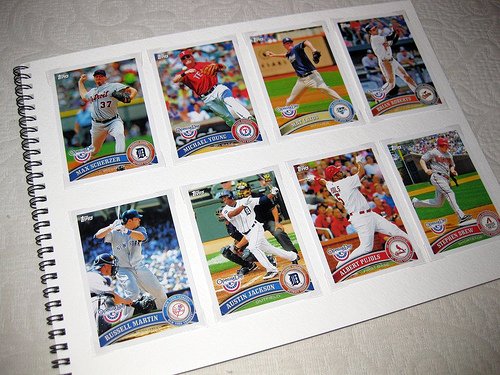 There are many ways to organize your pad—one page per player, alphabetically, by team. It's up to you to decide what works for your collection and the file retrieval process in your head.
If you use this method, leave a comment and let me know how it works for you. If you use a different technique, share it with us.