UPDATE: Congratulations to our randomly selected winner, Chad Johnson!
Thank you to everyone who participated, it was very interesting to read about your challenges. Your comments got me brainstorming new post ideas. Let's do another giveaway soon.
–
The dog days of summer are barking and there's nothing quite like trying to beat the heat while holding a newborn. Needless to say, it's been slow on the graphing front lately. But while I may not be adding much to my collection, I want to add a future Hall of Famer to yours.
One lucky Autograph University reader will win this John Smoltz autographed photo which I picked up at last year's Red Sox Wives Cash & Can Drive.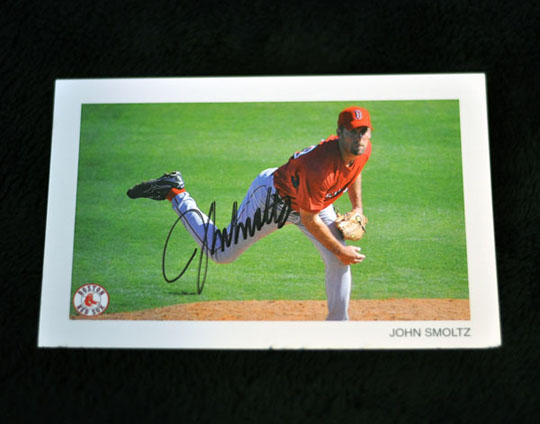 All you need to do for a chance to win is leave a comment answering the question—What is your greatest autograph-related challenge?
I will randomly choose a winner on Friday, July 27 at 10pm EDT. One comment per person and please use a valid email address so I can contact you if you win.
I look forward to reading about your challenges and addressing them in future posts. Have fun and good luck!