As an in-person autograph collector, my two greatest challenges are knowing where a celebrity will be and when. Simple questions with difficult answers. Graphers use various intel to aid tracking, from team schedules to call sheets to word of mouth. But there is one tool that stands above the rest, one that gives you real-time updates on celebrity whereabouts straight from the source. It's a little website called Twitter, and I'm going to show you how to use it to grow your autograph collection.
Thanks to Twitter, the barrier between star and fan has never been lower. People who once sent fan letters and waited by their mailbox for a response are now checking their inbox for replies to their tweets. It's an informative (and addictive) platform, one you can customize in various ways to suit your individual preferences. In this post I'm going to show you how to use Twitter Lists, a feature particularly useful for autograph collectors.
NOTE: If you're new to Twitter, sign up and check out Mashable's exhaustive guide.
"What are Twitter Lists?"
Twitter's Lists feature allows you to organize your followers into groups, helping you segment the stream of updates you receive. Once you start following more people, that stream can turn into a gushing river making it nearly impossible to keep up with it all. By sorting the people you follow into smaller lists, tracking what they are saying and doing is much more manageable.
"Who should I include in my list?"
Twitter allows you to create up to 20 lists, but I suggest starting with two. To use a sports analogy, the first list should be your home team and the second includes the visitors.
In your home team list, include anyone who lives in or travels frequently to your area. For example, members of the local sports teams and celebrities who live or have family nearby. Since I live near Boston, I created a list that includes Patriots and Red Sox players and stars with local roots like Eliza Dushku and Maria Menounos. When basketball season rolls around (if it rolls around, fingers crossed) I'll add Celtics players. I may also decide to remove some Red Sox players who I know live elsewhere in the off-season.

Your second list will be much more dynamic and time-sensitive. Include people who are just passing through, like a touring band or visiting baseball team. Add them a day or two before they arrive in your city and then replace them when they hit the road again.
"How do I create a list?"
Here's a step-by-step walkthrough of how I created my Boston (home team) list:
After signing into Twitter, click on "Lists". Then, click "Create a list".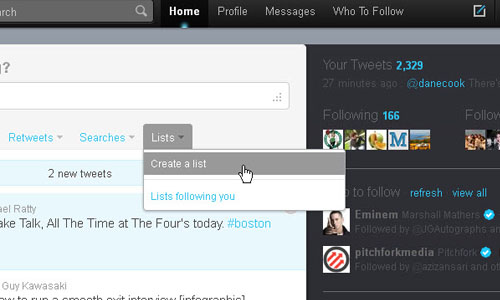 A pop-window will appear in which you can fill in details about your list. After naming your list and adding a description, choose a privacy setting based on whether you'd like others to be able to access your list (I want you to be able to access mine, so I'm making this one Public). After saving your list it's time to start adding users.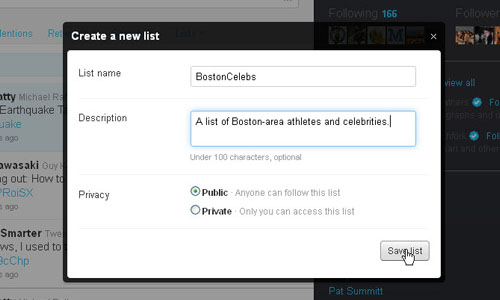 Use the search function to locate a user and navigate to their Profile page.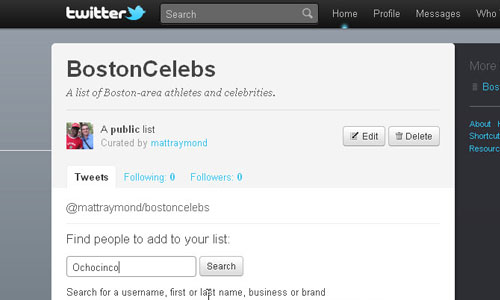 Find the head-and-shoulders icon (I don't know what it's actually called) and click "Add to list". In the pop-up window you can add the person to one or more of your lists (or create a new list starting with this user).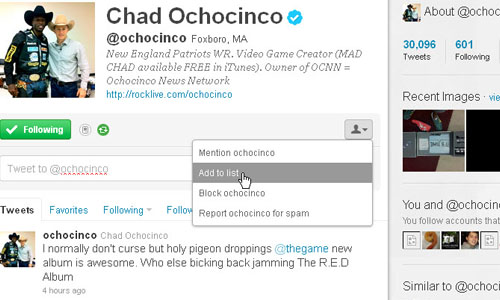 Now, head over to your Profile page and click on your new list. You'll see a stream of updates of users you have included on that list. Repeat the process for adding more users to your list, and to create your visiting list.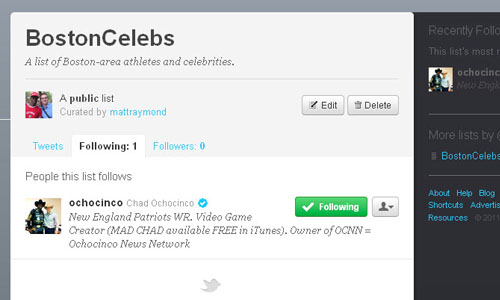 You can now more easily monitor celebrity activity around you. Using this technique a few weeks ago, I tracked down Chad Ochocinco less than an hour after he tweeted that he was stuck in traffic on his way into Boston to go shopping at Urban Outfitters.
Once you're comfortable working with lists on Twitter, I suggest using a dashboard application that offers multiple views (i.e., the ability to monitor multiple lists simultaneously) such as TweetDeck. Here's a screenshot of my setup—you'll see a column for my home team list, one for my visiting list, and a main stream of all updates from those I follow.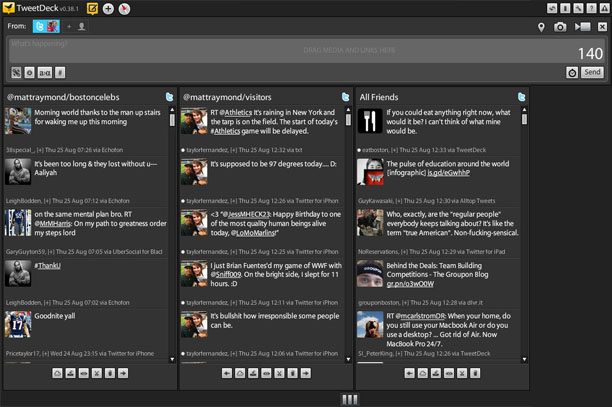 I'd love to hear about your Twitter-related success stories – leave a comment below.  Also, if you have any questions (Twitter may tweak its layout or List workflow at some point), let me know and I'll try to help.