Over 90% of the autographed items in my collection are photos. They're inexpensive to print, lightweight to carry (or ship, for you TTM collectors) and display well. And if you find yourself needing an item in a hurry, you can send a file down to the local photo shop for pickup in an hour. Easy, right? So how do I explain all the blurry photos, weird print sizes and illegible signatures that plagued my early collecting years? I'll do my best so you don't make the same mistakes—because sometimes you only get one shot.
YOU SAY YOU WANT A RESOLUTION
The number one error I made when printing photos was choosing images with a resolution too low for the desired print size (I typically print 8×10). I'm not going to spend a lot of time breaking resolution down technically (you can check out Wikipedia for that) but it's basically how much information and detail is contained in your image. A low-res image may look ok as a 4×6 print but blow it up to 8×10 or 11×14 and you're going to see jagged lines and blur as all those tiny pixels are being magnified. You don't want your image to look like a screenshot from an old Nintendo game (or Minecraft for you younger collectors). As a rule of thumb, you want to use the highest resolution image you can find.
You'll see resolution displayed in a width x height format (e.g., 2400×1600), meaning the image contains 2,400 pixels across and 1,600 pixels in height. So we know bigger is better, but usually I'm challenged with an image that falls in a middle range of resolution. Is 800×600 enough for a high-quality 8×10? Is 1200×800 enough for an 11×14? In almost all cases, I don't have time to wait for the print to come back and make adjustments (and trial and error is costly).
The folks at Adorama (home to Adoramapix.com, my favorite online printer) wrote a post on Pixels and Printing and I pulled out their size guide which I think is a great reference point (I added the 16×20 specs).
Print
Size (")
File size required for Print (MP = megapixels)
180ppi (good)
240ppi (better)
300ppi (best)
4×6
720×1080 – 0.75MP
960×1440 – 1.4MP
1200×1800 – 2.2MP
5×7
900×1260 – 1.2MP
1200×1680 – 2MP
1500×2100 – 3.15MP
8×10
1440×1800 – 2.6MP
1920×2400 – 4.6MP
2400×3000 – 7.2MP
11×14
1980×2520 – 5MP
2640×3360 – 8.9MP
3300×4200 – 13.8MP
16×20
2880×3600 – 10.4 MP
3840×4800 – 18.4MP
4800×6000 – 28.8 MP
Do the specs in the first column mean you won't see any pixelation in an 8×10 print using 1440×1800? No, but it will probably look pretty good. If you're going after a coveted signer and/or paying for a signature, using the best resolution will ensure you won't have any regrets.
Ok, so now you've got a better understanding of what size images you need. How do you find them?
A PICTURE IS WORTH A THOUSAND KEYWORDS
There are a number of online resources for locating that perfect image. Let's start with the legal ones.


Your own photos – My ultimate item is not a "premium" item (e.g., a signed jersey or helmet), it's a picture taken with a celebrity and then printed out and signed. I also love taking action photos of athletes and getting them signed afterward. Both are unique items that are far more sentimental to me than a stock photo thousands of people have on their wall.
Photo File – The largest supplier of officially licensed photos for sports (they stock WWE and some non-sports as well). Photo File has a very good selection of high-quality prints at price points ranging from $7 – $10 for an 8×10. But you're going to have to wait for your order to come back so this would be an ideal option for that upcoming signing you know about well in advance. I'm not crazy about logos or holograms on my images but you're going to see those on Photo File prints to validate that they're licensed.
Sports Illustrated offers high-resolution prints of their covers. It will cost you, but get these signed and they will be signature pieces in your collection. Get it? Signature…let's move on.
Collect minor league baseball? Check out Future Star Photos which has a great selection of these tough to find images.
Now for the nefarious alternatives…
(Technically it's illegal to reproduce a copyrighted image, even for personal use. If you didn't pay for the image or take it yourself it most likely falls into this category. There are a few exceptions if you want to get into Creative Commons cases but odds are the image you really want to print out is copyrighted.)
Google Images – After performing a keyword search, click on "Search Tools" at the top of the results page. Then, filter to show only high-resolution images by choosing Size > Large or Size > Larger Than [select resolution].
Flickr – You won't find the volume of results that Google provides but many images have been uploaded in their original size (i.e., high resolution). After hitting the search button, click on an image and find "More Actions" which is signified by three horizontal dots (for a better description, see the screenshot below). Click on Download / All sizes.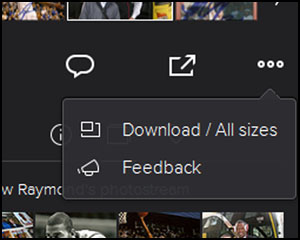 HOW TO CHOOSE A GREAT PHOTO FOR AUTOGRAPHS
The first criteria should now be obvious, the second may surprise you.
An image that is tack-sharp when enlarged to full resolution (refer to the third column in the table above).
The photo should have a simple background. Printing out an action shot of a basketball player? A fantastic way to hide the signature is in a crowd of fans (see right). Busy backgrounds will at best distract from an autograph and at worst camouflage it. My recommendation is to stick with a simple, light background if you can find it. While you may have grand intentions of a stunning silver signature across a dark backdrop, the signer may run with a black or blue Sharpie and give you a near-invisible graph.
PHOTO FINISH
You've found the perfect high-resolution image and you're ready to order a print. But you're not done until you select a finish—that is, what time of paper/coating for your photo. If you're using the photo lab at the corner convenience store, glossy may be your only option (and it's a fine choice). Use Adoramapix.com or another specialty and you'll see a broader selection. Matte, glossy, lustre, metallic—what do they mean and which is the best for your print?
Matte – This finish is glossless—think of an old baseball card. The photo will hold a signature very well but the overall item won't be as vibrant (or reflective, which can be good and bad) as a glossy print.
Glossy – We're all familiar with this one. This is the standard finish we see on printed photos. Your autograph will look great but put it on the wall and it has some mirror effect.
Lustre – My finish of choice, lustre is not as reflective or vibrant as glossy but has a pleasant sheen that looks great and works best—in my opinion—for a display item.
Metallic – I'd classify this as a novelty finish and your taste will determine whether it's for you. Your photo is going to look like an insert card and the signature will need some extra time to dry. I may not print an old-time ball player on metallic but could it be worth a test on that new draft pick.
Where do you get your photos? How do you print them?