UPDATE: Thanks to everyone who participated in our giveaway! I really enjoyed reading your submissions and this collection of comments is a great resource for collectors. We've emailed our randomly selected winner.
October may be my favorite month. Warm days give way to crisp, cozy nights. Leaves of red, yellow and orange crunch underfoot. Pumpkin beers and football tailgates. Soccer in full stride around the world while hockey and hoops seasons begin anew. My wedding anniversary. Halloween.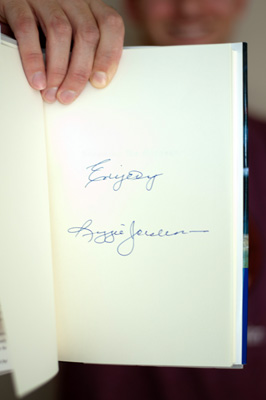 And playoff baseball.
When you think of October baseball one man comes to mind—Reggie Jackson. Though he isn't known to be the friendliest of figures, one cannot deny he was a legend on the diamond. He has a new book out—aptly titled "Mr. October"—and I'm giving away my autographed copy to one lucky Autograph University reader.
All you need to do for a chance to win is leave a comment and tell me one thing you wish you knew when you started collecting autographs.
I will randomly choose a winner on Saturday, October 26 at 9pm EDT. One comment per person and please use a valid email address so I can contact you if you win.
Thanks for participating and good luck!