Skipped a few classes? Our mid-year review will catch you up on everything that has happened at Autograph University since the New Year. If you're interested in getting a more real-time view of my adventures, I suggest you "Like" the Autograph University Facebook page and follow me on Twitter. Have a suggestion for a post that you'd like to see? Leave a comment and let me know.
Read all about what went down at Autograph University from January through March in our first quarter class review.
April 3, 2012
Autograph Adventures – Bill Murray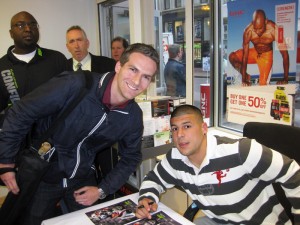 April 5, 2012
Matt Raymond Discusses Autograph University Yearbook on Cardboard Connection Radio
April 24, 2012
Your All-Weather Guide to Autograph Collecting
May 8, 2012
Autograph Adventures – Aaron Hernandez
May 12, 2012
Graphed New England Patriots safety Patrick Chung (photo).
May 24, 2012
Anatomy of an Autograph Signing – Josh Hamilton
June 4, 2012
2012 Autograph University Yearbook – Download your copy of the free eBook
June 14, 2012
Reddit Q&A with Matt Raymond, in-person autograph collector
June 15, 2012
Graphed comedian Neil Hamburger (photo).
June 22, 2012
My Most Sentimental Autograph Was Purchased on eBay
June 29, 2012
Is Fatherhood the End of My Autograph Collecting Career?
July 18, 2012
How to Choose the Best Silver Marker for Your Autographs
July 24, 2012
I gave away a John Smoltz autograph. Thanks to all the readers who participated by sharing their greatest autograph-related challenge in the Comments section.
What do you want to learn about that we haven't covered? Leave a comment below and I'll consider your idea for a future post.