I am pleased to present the third annual edition of the Autograph University Yearbook, a collection of stories penned by members of the autograph community. This year's issue includes 12 new tales (including one never before published from me). You'll read about attempts to graph icons like Bob Dylan, Denzel Washington and Tom Hanks; parents and their children sharing unforgettable moments; mistaken identities and chance encounters. It was months in the making and I couldn't be more proud of the work we've done. It's one example of what we can do when we come together as a community.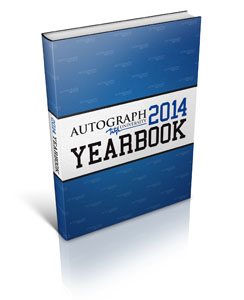 The Yearbook is the most meaningful project we do each year at Autograph University, and I encourage you to share it with your fellow graphers and help us spread the word.
Click here to download your FREE copy of the 2014 Autograph University Yearbook (PDF eBook).