In my office we eat lunch at our desk—while still scanning Outlook and responding to email with one hand. Only on the nicest days do I treat myself to a midday break, usually a walk to the bank or CVS, to run errands and get some fresh air. On the eve of a spring snowstorm in Boston I felt the need to stretch my legs before the white stuff piled up yet again.
I'm glad I did.
Crossing the street toward Boston Common I walked by a tan-skinned, big-bosomed woman who looked a hell of a lot like Salma Hayek. I knew the actress was in town filming "Here Comes the Boom" with Kevin James but, behind her sunglasses, I couldn't be completely sure. I had to take the chance.
"Miss Hayek?"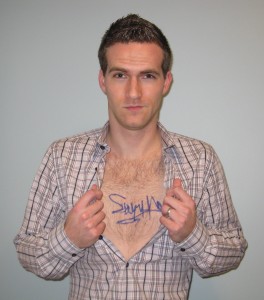 She stopped, turned, and in her unmistakable accent said, "Yes?"
Shocked, I professed my admiration and asked for an autograph in a barely audible squeak. I reached for my wallet to pull out the blank card I always carry (see my recent post on always being prepared) and the mini blue Sharpie I keep on my keychain. Shit, no card. I had forgotten to replace it after graphing Charlotte Bobcats guard D.J. Augustin last week. I looked up, she shrugged, turning away.
"Wait!"
In a moment of what I can only describe as insanity, I asked her to sign my chest. I don't know what I was thinking. Frankly, I wasn't.
But she did, without changing her expression or batting an eyelash.
So now what?
I don't want to wash it off just yet because it's such an amazing story. With the weekend coming up, I think I can make it through one day of work without showering (much to my wife's chagrin) and then have two days to show it off. I took the picture you see above and thought I could print it out as an 8×10 and track her down again to get it signed—a unique item, to say the least.
What do you think I should do? (And don't say tattoo it—I'm not that big a fan.)
UPDATE (4:15pm ET): April Fools!