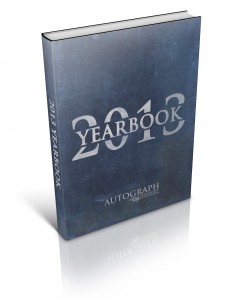 As soon as I hit publish on last year's inaugural edition of the Autograph University Yearbook I was looking forward to the 2013 edition. Why? I knew once people read the entertaining and emotional stories submitted by fellow members of the autograph community they'd want to get involved. I can't thank enough the collectors who stepped up and participated in the 2012 Yearbook. They helped lay the foundation for what is going to be a monster publication this year. But to make it happen I need YOUR help.
I want your story for the 2013 Yearbook.
We all have a tale to tell, whether it's a memorable celebrity encounter or a multi-signed piece you spent years finishing. To be a part of this amazing project email me a few paragraphs about something autograph-related you'd like to share with the community. Some ideas:
A favorite autograph adventure
The story behind acquiring a favorite item(s) in your collection
Why you collect autographs and love the hobby
"What I learned" about autographs (tips, etc.)
Submissions will be included unedited (except for typos.) The 2013 Yearbook will be distributed in June as an eBook and will be free to download.
Submission guidelines:
Submissions will be accepted until May 11. Email your submission to matt@autographu.com.
Your submission should be as long as it needs to be (although 100 – 500 words is recommended).
Have a picture? Send it along and I'll try to include it (layout has yet to be finalized).
Include your Name and the Contact Information you'd like to appear with your entry (e.g., email, Twitter handle, website URL).
I'm so excited about this and I hope you'll be a part of it.