I wish everyone on my nice list was as easy to buy for as me. As an autograph collector there is an endless array of supplies, gadgets and gifts that would put a smile on my face. But every year I end up with a small pile of stuff that has limited utility—a desk calendar here, a pair of cuff links there. The problem is, friends and family members know how passionate I am about the hobby but wouldn't have the slightest clue what I need to help me improve my collection. I could give them a list of exactly what I want but that isn't fun for the gift giver or recipient. What they need is an insider who can offer ideas that are both practical and thoughtful.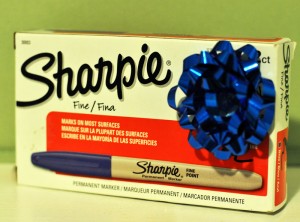 If you've got a collector on your list, this guide will give you eleven ways to impress and delight. If you're a grapher, share this post with your loved ones and set yourself up for success in 2013 (and reduce the amount of returned gifts you need to process in the New Year!).
Gift certificate for custom framing
The opportunity to create a one-of-a-kind piece that you can display with pride and enjoy forever is something every autograph collector wants, but few—including myself—spend the money. I've always thought, "Why invest in a frame when I can use this money to get MORE autographs!" But I've learned to value quality over quantity and would absolutely love to get this in my stocking. Check out my video that covers just about everything you need to know about framing autographed photos and jerseys.
Markers
A painter needs his paint and brushes, a photographer his camera and film…uh, memory cards, and an autograph collector needs his markers. Grab a box of the standards: blue Sharpies and liquid silver DecoColor paint pens.
Autograph bag
A backpack or duffle is adequate but a briefcase-style bag with multiple pockets will make graphing much more efficient by improving organization and accessibility. Here are 11 items every autograph collector needs in their autograph bag (great ideas for stocking stuffers!).
Gift card for photo prints
Other than gasoline and time, my resources are most taxed by the cost of prints. Many photo processing sites also offer a discount on pre-ordering print credits which can be used as needed throughout 2013. (As you know, I love Adorama's lustre prints.)
Ticket for an autograph signing
Looking to purchase an autographed item as a gift? Before you do, investigate whether there is an upcoming signing with the athlete (I recommend and subscribe to SigningsHotline.com). If it's a local signing, meeting the player is an added benefit. Can't make it in person? You can still mail in the item of your choice.

A dozen baseballs
Pitchers and catchers report in two months! Don't skimp on quality or your autographs may disappear. Official Major League Baseballs (OMLBs) are the only option here. Word is, andersonkpt.com has the best prices on the web.
Autograph storage/supplies
Binders, pocket pages, backing boards, ball cubes—nothing sexy here but it's all critical for protecting your collection. Check out my post on the best way to store your autographed photos to see what supplies I use. If you're looking for a jersey solution and can't afford the custom route, I recommend the BCW jersey display—I have an autographed Durant jersey in one and love it.
Envelopes and stamps
Through-the-mail (TTM) collectors know you can never have too many stamps or envelopes (and how annoying it is when you run out of either). Business-size envelopes work but mix in some 9x12s and padded bubble mailers to accommodate multiple types of items. Oh, and stick with the self-sealers—no one wants to go dizzy licking envelopes.
Winter gear
Like me, many of you are in cold-weather climates and know there is no graphing offseason. A warm hat, thick socks and gloves with dexterity (I use these) are minimum requirements, but you'd be surprised how often I see fellow collectors braving the elements without the essentials.
Compact point-and-shoot camera
I'm impressed with the quality of the camera on my iPhone 5 but it lacks the image stabilization for high-quality "pictures with". You may only get one shot at a once-in-a-life-time photo opp, the last thing you want is a blurred memory. I've been using a Canon PowerShot SD790IS for years with great results. Here is a comparable model.
Subscriptions to autograph communities
The knowledge I've gained from participating in autograph collector communities such as SportsGraphing.com and SportsCollectors.net has been invaluable. TTM collectors may also find StarTiger.com a great resource for celebrity addresses and success stories.
What's on your holiday wish list? Leave a comment and let me know.