December 3, 2011
Bedford, Massachusetts
It was a Black Friday scene all over again at HomeGoods in Bedford, Mass. Two hours before Pedro Martinez was set to kick off a scheduled toy drive, over 150 people lined the cold sidewalk outside the store. Lawn chairs marked the first dozen spots, their blanketed owners ensuring an early opportunity at the limited time offer.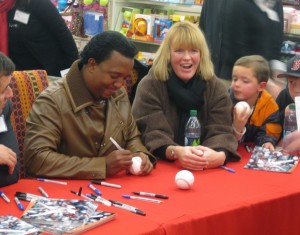 What a deal. In exchange for two unwrapped gifts, Pedro would sign an item of your choice. Collectors (and more than a few looking to profit off the event) stood with baseballs, bats, photos and jerseys—I even saw an end table adorned with the faces of Red Sox stars. As the sun dropped it took the temperature along with it. During a wait like this (which is quite common in this hobby), the people around you make all the difference. I lucked out and made friends with a few collectors eager to trade tips and share autograph adventures. It's amazing how good company passes the time. Soon (or so it seemed) I was inside the store, and at 6:45 p.m.—over 3 hours after arriving—I was in front of Pedro.
He was an assembly line but cordial with fans, responding to questions and well wishes. I asked him if he remembered the first time he signed an autograph (no surprise to those familiar with my interviews). He didn't recall, he said with a smirk. I thanked him for coming and he replied warmly.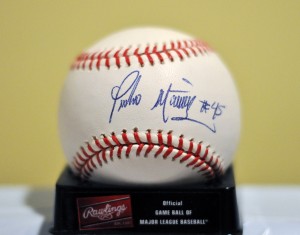 "It's a pleasure," he said, handing me a baseball signed perfectly across the sweet spot. "Always happy to be with you guys."
Numerous sources reported that Pedro stayed over an hour past the allotted time to ensure everyone received a signature. It was an incredibly well-organized event and a thrill to meet Pedro—a legend, a future Hall of Famer, and a true ace on and off the field.
If you're having trouble playing the video, click here to view it on YouTube.