In our inaugural Class of 2013 we have recognized six athletes who have gone above and beyond to accommodate autograph collectors over the course of their careers. Each of these friends of our hobby will receive an honorary degree from Autograph University as a token of our gratitude. Thank you to all the readers who submitted a nomination. We selected a very strong first class and I look forward to celebrating the very best signers with you each year.
CLASS OF 2013
Bill Walton ('13)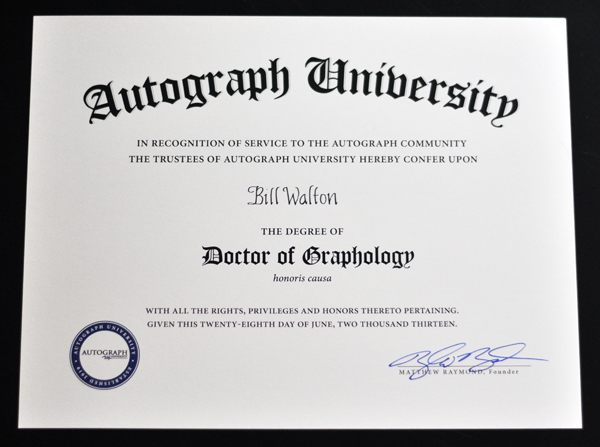 While the "Big Red-Head" isn't known for responding to TTM requests, he more than makes up for it when you encounter him in person. Bill Walton is generous and gregarious and lives up to his legend. He's an autograph signing machine and will sign whatever you have with a complete signature, inscriptions and that infectious smile on his face. Check out the video below and see for yourself.
Have you received an autograph from Bill Walton? Leave a comment and share your story with us.