In our inaugural Class of 2013 we have recognized six athletes who have gone above and beyond to accommodate autograph collectors over the course of their careers. Each of these friends of our hobby will receive an honorary degree from Autograph University as a token of our gratitude. Thank you to all the readers who submitted a nomination. We selected a very strong first class and I look forward to celebrating the very best signers with you each year.
CLASS OF 2013
Virgil Trucks ('13)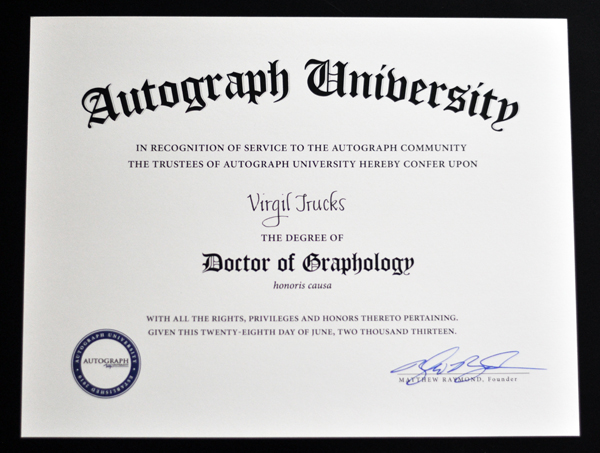 Virgil "Fire" Trucks was an all-star on the field and one of the all-time greats off it. Until his passing in March 2013 at age 95, Trucks was automatic through the mail (97% success rate according to SportsCollectors.net) and it wasn't uncommon for collectors to receive a personal note from the legend with their item. Along with Bobby Doerr, Trucks received the most nominations from Autograph University readers and the inaugural Class of 2013 wouldn't be complete without him.
Have you received an autograph from Virgil Trucks? Leave a comment and share your story with us.